Holis Wellness was founded in 1993. "Holis" the latin root for the word holistic defines our philosophy of giving attention and bringing awareness to the body as a whole entity. For over 15 years we have been providing our clients the highest quality experience in Manuel Antonio. We attribute our success to this integrated holistic approach.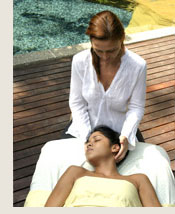 The founder of Holis Wellness, Evelina Bolognini, is a second-generation bodyworker and has been devoted to holistic therapies since childhood. Following in the footsteps of her father, Evelina studied a wide range of therapies in her native country of Italy, the USA, and Costa Rica. Holis Wellness is the result of over 20 years of passionate study, research, and professional experience.
Our Product Line
Costa Rica's natural richness provides some of the most effective food for your skin. With 15 years of experience with Costa Rican botanicals we offer safe, effective, nourishing, pure products. Aloe Vera, organic raw honey, thermal mud, kelp seaweed, cocoa butter, and more biogenetic ingredients are sourced locally for the highest quality holistic treatment available.

Our Therapists
Our therapists and teachers have been selected using particular criteria. Each practitioner is chosen based on comprehensive knowledge of body mechanics, body chemistry, and the emotional self and has the skills and experience to work with the client to create a symbiotic relationship of these elements through various therapeutic modalities.
Our Services - Click on any of the services for a complete menu and pricing
Massage Therapy | Facials | Body Treatments| Hands and Feet | Combinations | Spa Parties





It is through this awareness and knowledge that we support the needs of our clients. Whether the desired effect is relaxation or a deeper therapeutic experience, we personalize our sessions to be as unique as our client.